This post by Delta
has been a great inspiration to me since I read it a long while ago. It uses
Miller's Law
to discuss how many options are "too many options". It is a great post - go read it if you haven't yet.
According to Wikipedia, Miller's article ("The Magical Number Seven, Plus or Minus Two: Some Limits on Our Capacity for Processing Information") "is often interpreted to argue that the number of objects an average human can hold in working memory is 7 ± 2".
There is more to it than that, as you can see on the link, and the whole notion is somewhat disputed (there is mention of a "Magical Number four", for example), but Delta makes a very interesting argument based on the number 7 (and often less) to explain why so many people might find 3e "too complicated" when compared to OD&D. I feel the same - I really like having lots of options, but I also think they can be overwhelming.
This whole thing got me thinking about what is the ideal level of detail for my games. Should I use a d100 range for traits? Should I ignore +1 modifiers? Should I use a d6 for skills, or is it not detailed enough?
Bear in mind that all of this might be coincidental, and
has a lot more to do with personal taste than mathematics or psychology
.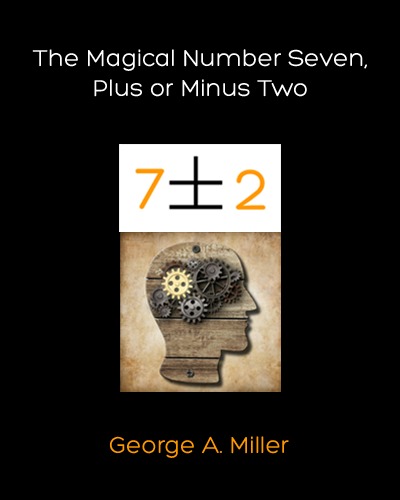 So, what is the ideal level of detail for me?
As you would imagine, the answer is often... seven.
Take B/X ability modifiers, for example; they range from -3 to +3. So, you have seven degrees of Strength, for example (-3, -2, -1, 0, +1, +2 , +3). Sure, there might be some difference between Strength 10 (+0) and Strength 11 (+0), but it is ignored most of the time (and I appreciate the
illusion
of difference between 10 and 11, but that is a subject for another day).
Curiously,
when the Fate RPG was created
, the creators played with the idea of having three tiers of "strong", according to Rob Donoghue:
The idea was to let a character be strong, stronger or strongest. But it also allowed someone to be drunk, drunker, or drunkest.
There something very straightforward (and Orwellian, I guess) of using a couple of words when describing all possible human tiers of Strength: weakest, weaker, weak, (ordinary), strong, stronger, strongest.
This applies to lots of RPGs, which use three levels of "Strong", for example, but only one level of "weak", since heroic characters will seldom have many "weak" traits. Both the Storyteller system and Savage Worlds, for example, use a kind of Weak/Average/Strong/Stronger/Strongest progression, going from one to five "dots" or from d4 to d12.
The Fate RPG, on the other hand, would adopt an "adjective ladder", with more tiers - which causes some confusion for me, because sometimes I forget if "Fantastic" beats "Superb" or if "Epic" beats "Legendary". It would seem that for this level of granularity numbers would be better than words.
Now, let's stretch the concept a bit further.
If you have seven possibilities with the same likelihood of happening, each has a
14,2%
chance of taking place.
Well, this happens to be the granularity I like when dealing with modifiers, which is probably why I dislike using +1 modifiers when rolling a d20. Using a d20, the closest to 14,2% is a +3 bonus - which is what you get when you invest in a NWP in AD&D 2nd Edition. Some versions of old-school D&D use +4/-4 as the "go to" modifier when rolling 1d20.
But what if you're are using a d6? Well, +1 in 1d6 adds about 16,7% chance; very close to the ideal level of granularity I need.
Fifth Edition D&D has substituted most modifiers with a "2d20 pick highest/lowest" system, and that was one of the most universally admired features of this new version, because many people thought that those small +1 modifiers were too fiddly and somewhat of a nuisance. This method influences the results in different ways, depending on the Target Number, but
on average
the difference is 3,5
- or 17,5%.
By the way, the average result of a d6 is 3.5. Which means that adding a d6 to a d20 or to 3d6 has similar results... and may explain why the classic method of "roll 3d6 under ability, 4d6 if the task is hard, etc., works so well.
There are exceptions, of course. I still use the d20 and +1 increments for combat, since in the long run having a +1 bonus will give you an edge more than 5% of every combat. Also, if you take the "plus or minus two" idea into account, increments of 10% to 20% instead of about 15% could work too (using +2 to +4 to a d20 roll), if you prefer even numbers.
Coincidentally, I've recently realized that I also like the idea of SEVEN OUTCOMES for most actions. It is more than most people are used to (unless they play Fantasy Flight Star Wars, I guess), and certainly more than you need in most situations, but dividing outcomes in worst, worse, bad, ordinary, good, better, best, has worked for me; I can easily think of each category for most uses of a skill or ability.
Not all outcomes have the same chance of happening, of course.
You can find an explanation lots of examples in this post
.
| | | | | |
| --- | --- | --- | --- | --- |
| | | | | |
| | Score | Modifier | Description | |
| | 3 | -3 | Worst | |
| | 4-5 | -2 | Worse | |
| | 6-8 | -1 | Bad | |
| | 9-12 | 0 | Neutral, as expected | |
| | 13-15 | +1 | Good | |
| | 16-17 | +2 | Better | |
| | 18 | +3 | Best | |
| | | | | |
You can go the Rules Cyclopedia way to make it simpler (five outcomes, still within "seven, plus or minus 2"):
| | | | |
| --- | --- | --- | --- |
| | | | |
| | Roll | Result | |
| | 2 | Worst | |
| | 3-5 | Bad | |
| | 6-8 | Neutral, as expected | |
| | 9-11 | Good | |
| | 12 | Best | |
| | | | |
Again, all of this might have no basis in science; it is one of those happy coincidences that work for me, but might work differently for your group.
So, what's is the point?
In conclusion, systems that bother with +5% bonuses are too fiddly for my tastes, and these modifiers are too often ignored by my players. If your tastes are similar, you can keep these ideas in mind when designing your own games or house rules for your favorite systems.